Real Weddings
East Coast Real Weddings
A Foodie Pennsylvania Farm Wedding
Associate Editor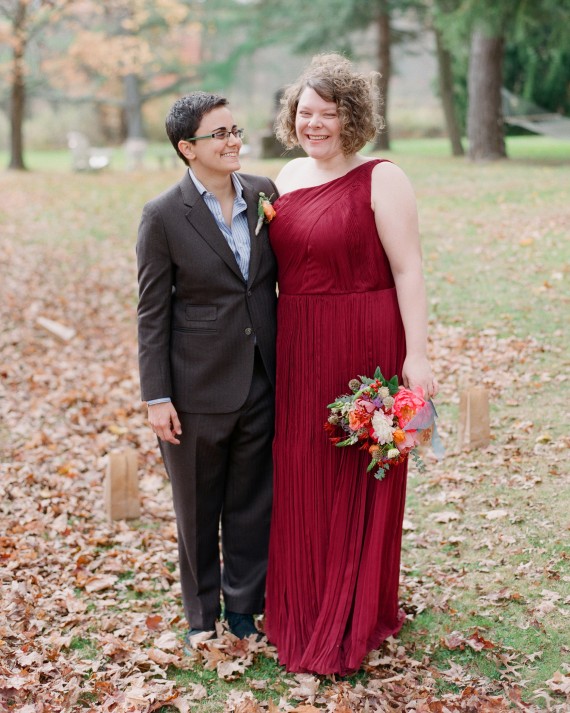 Celeste & Elizabeth
Celeste Fiore and Elizabeth Massa began their modern romance (online) about a year and a half before they got married (on November 2, 2013). The attorney and photographer, who live in Princeton, New Jersey, opted for a more rural setting for their nuptials, across state lines in Holicong, Pennsylvania.
Their wedding weekend celebrated love through relaxed elegance, incredible food, and fun, and culminated that Monday back in their hometown with a legal ceremony (the first same-sex marriage performed in their township courthouse) sealing the deal.
Photography: Corbin Gurkin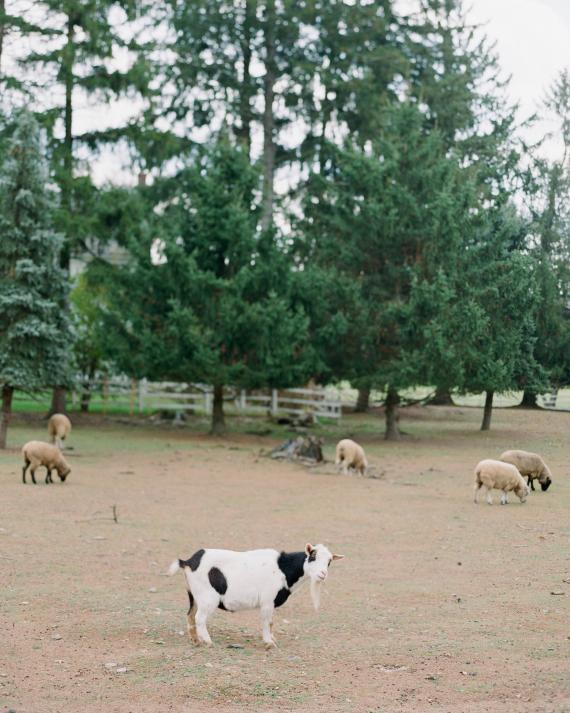 The Location
Ash Mill Farm, a working sheep farm with an inn for parents and close friends to stay at over the wedding weekend, boasted a tent and outdoor ceremony space and one free weekend, which the couple snatched up when they visited the venue.
The setting was the perfect spot, as those who traveled from near and far enjoyed the antiques and shopping in nearby Peddler's Village, as well as the local apple festival that fell on the same weekend.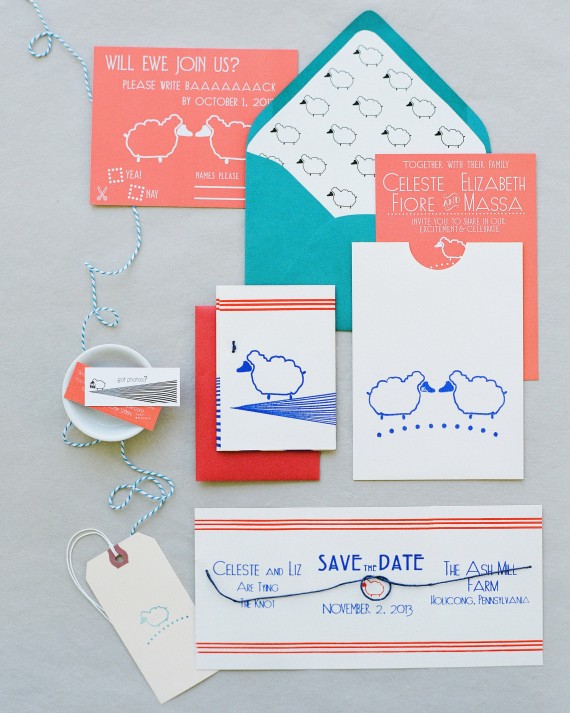 Sheepish Stationary
When you're getting married on a sheep farm, a subtle ewe motif fits the bill. "In designing our suite, we wanted to stay true to the feel of the event and give our guests some idea of what our wedding would be like," Elizabeth said. "All of the traditional elements were included, but in a slightly more quirky way."
Trifold save-the-dates with a string attached to the outer edges created a knot when opened. The design was screen-printed on both sides in two colors. As for the invites, JakPrints printed those with a response card asking guests to write "baaaaaaack" and note if they could attend the celebration. The same sheep from the save-the-date were printed on the sleeve enclosure of the invitation, and everything was mailed in a teal envelope lined with an apt pattern.
Julia and Paul Child inspired the color palette and subtle food theme. After a date one night, Celeste and Elizabeth picked up "My Life in France" and read it to each other, noting a lot of similarities between their relationship and the Childs'. They later went to Washington, D.C., to check out an exhibit on Julia's kitchen. En route they planned the wedding's dinner menu. Afterward, they stumbled upon a photo of the notable chef in her home, boasting so many of the colors loved by the brides, and their palette was cemented then and there.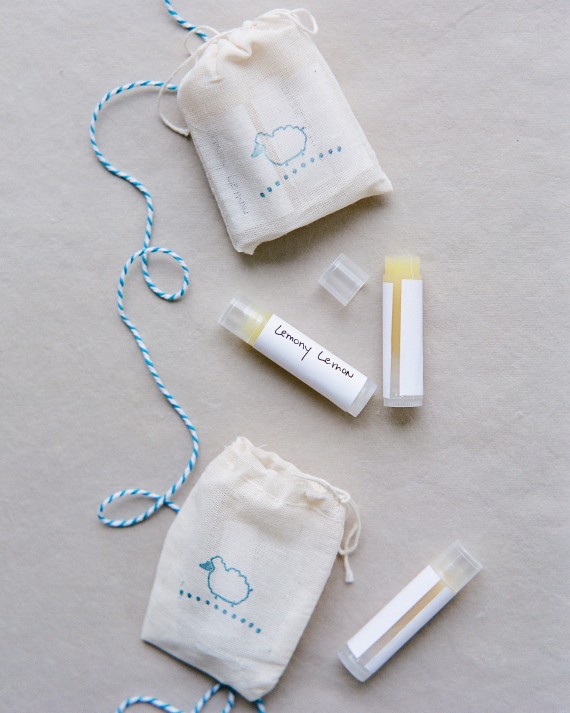 Welcome Treats
Canvas tote bags were screen-printed with the couple's ewe design and gifted to guests upon their arrival to Pennsylvania. The brides shared some of their favorite treats, like cider doughnuts from Terhune's Orchard, Twizzlers, copies of their families' bread recipes (Elizabeth's was her family's fig challah, and Celeste's was her grandfather's Irish soda bread), and Celeste's famous lip balm packaged in small muslin pouches rubber stamped to match the rest of the collateral. The pucker protectants were made in a variety of flavors: lemon, vanilla, cardamom coffee, and natural beeswax.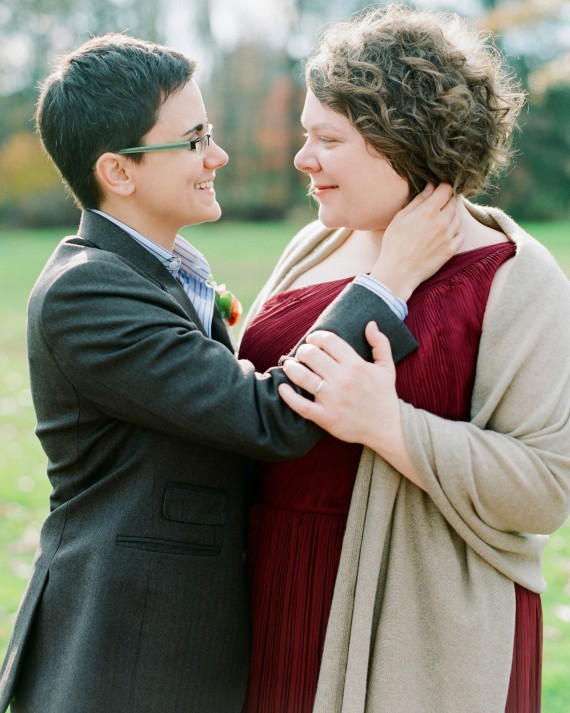 The Fashions
Celeste wore a bespoke chestnut-brown wool suit and striped shirt by Bindle and Keep and Cole Haan wingtips. An orange boutonniere finished off her look.
Elizabeth opted for a pomegranate-red custom dress inspired by a Madame Gresgown and made by Cozbi Cabrera. She accessorized with a Garnet Hill cashmere wrap, Naya shoes, and an antique coral cameo bracelet.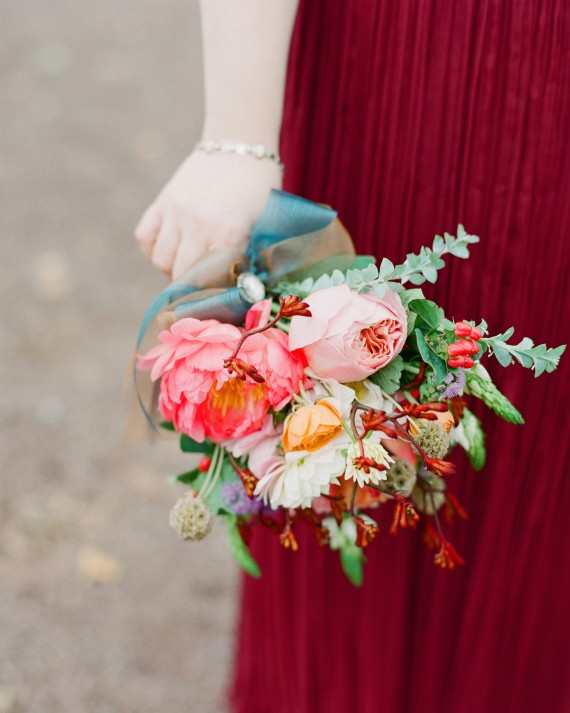 A Beautiful Bouquet
Elizabeth's petite clutch consisted of peonies, ranunculus, scabiosa pods, kangaroo paw, and dahlias. A cameo brooch her father found in a small shop in Naples, Italy, was a nod to the bride's grandfather's hometown.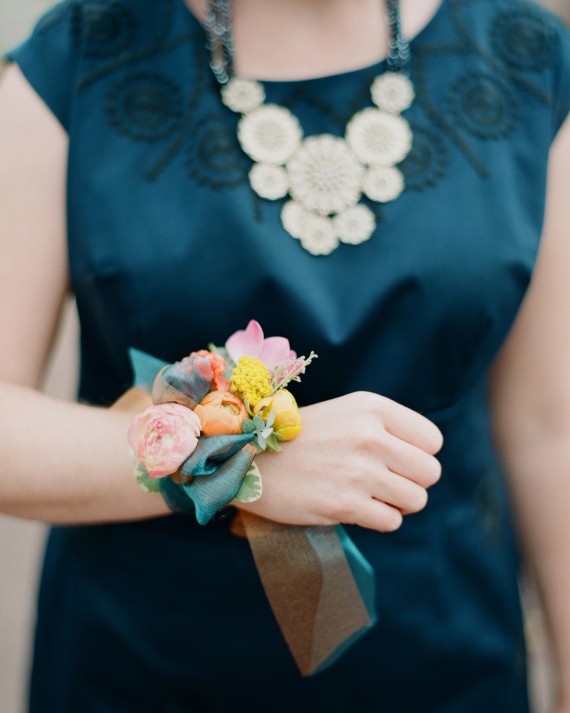 Wristful Thinking
The family and close friends who participated in the ceremony donned ranunculus corsages made by Floribunda.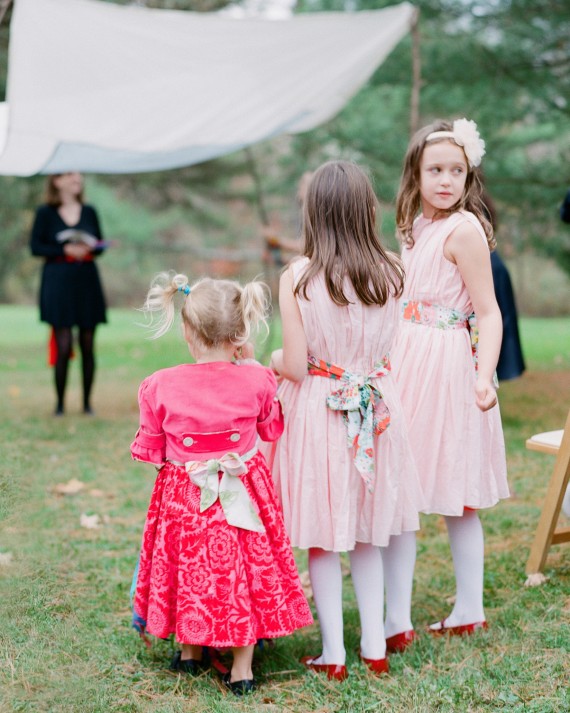 A Trio of Flower Girls
Three little ladies (wearing Moxie and Mabel and Llum) kicked off the ceremony. Two of the three girls were Elizabeth's cousins, and the third was the first newborn Elizabeth ever photographed and whose family she became fast friends with.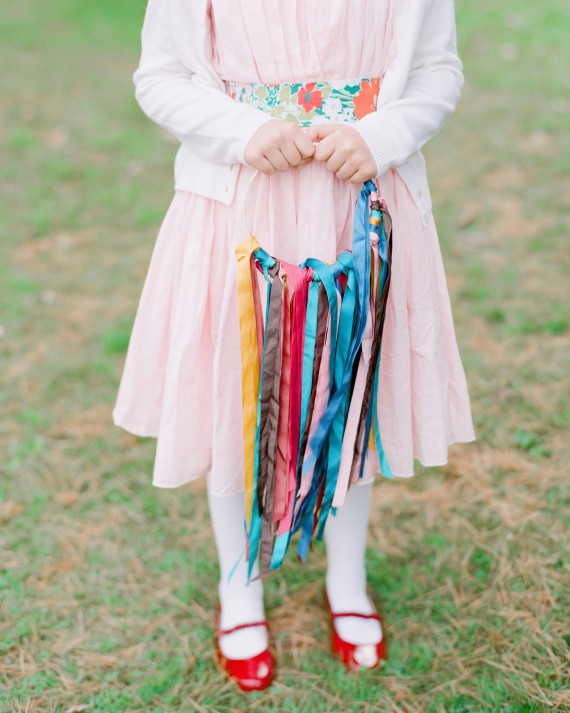 Festive Flair
The flower girls carried colorful ribbon wreaths down the aisle. Wands were handed to guests to wave in revelry.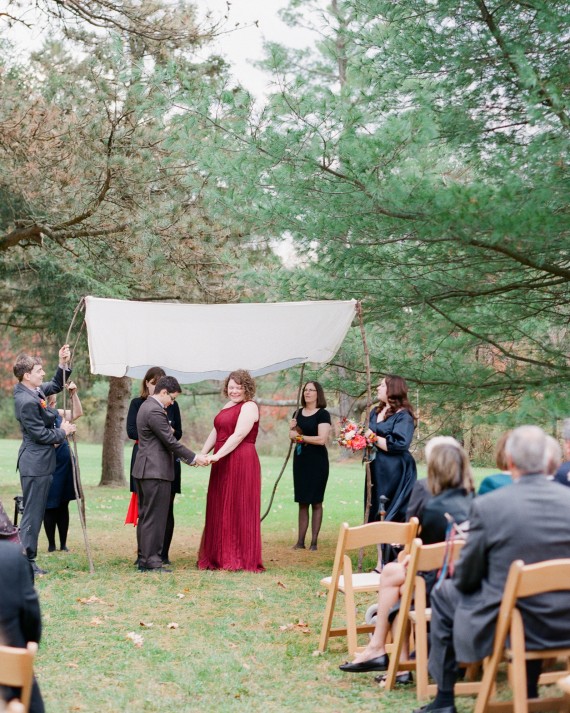 The Ceremony
Under a huppa made by Elizabeth and held up by loved ones, Celeste and Elizabeth tied the knot with a ceremony led by a friend that incorporated a Rumi prayer and text written by Celeste. The couple exchanged vows and Bario Neal wedding bands in front of their 95 guests, and recessed up the aisle to Nat King Cole's "If I May." Directly afterward, there was a prosecco toast to start the cocktail hour in the tent.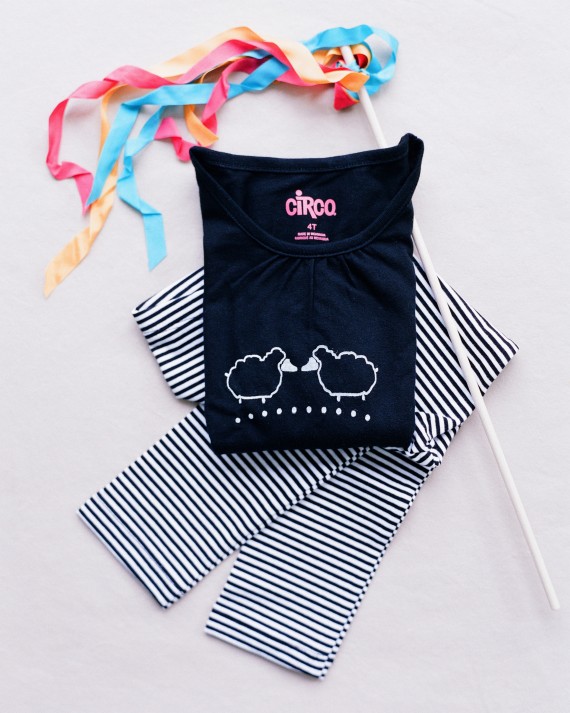 Little Gifts for Little Ladies
Celeste and Elizabeth gifted silk-screened shirts and matching striped leggings to their young attendants as tokens of thanks for their involvement in the celebration.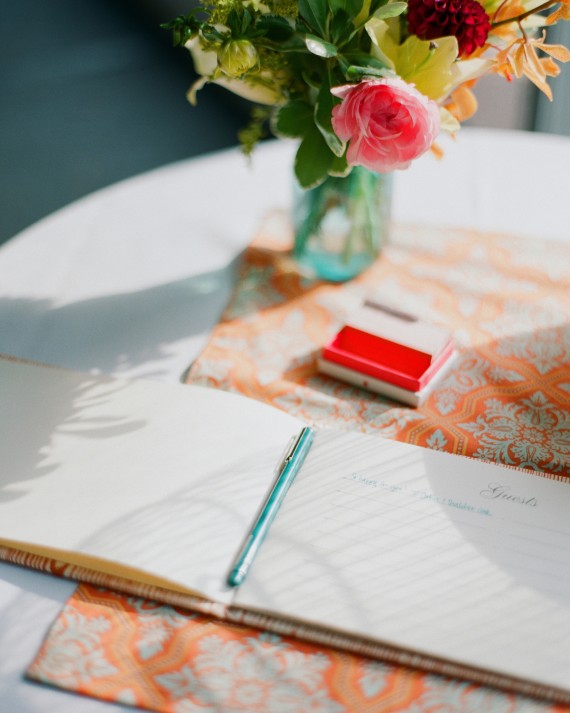 The Guestbook
An orange faux-bois pattern adorned the cover of the cloth-bound guestbook, which was from Paper Source.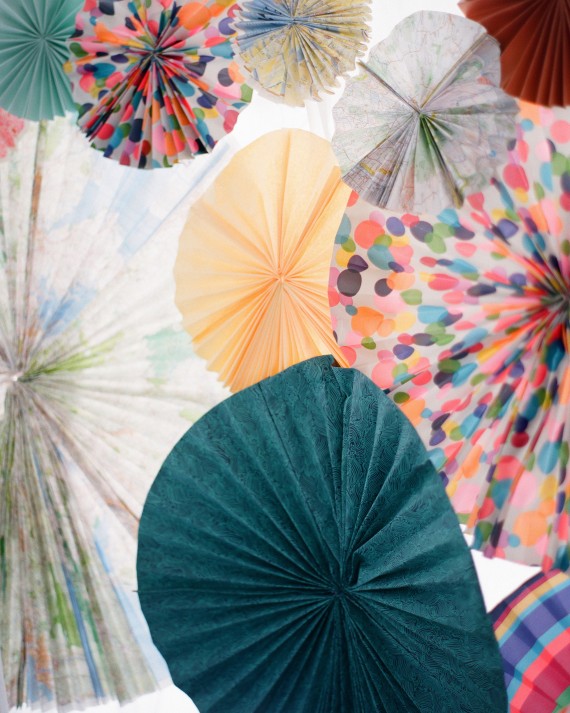 The Decor
To add color to the large tent, Elizabeth and her friend Kate made dozens of folded-paper rosettes, using a variety of papers and maps for areas of significance to the brides.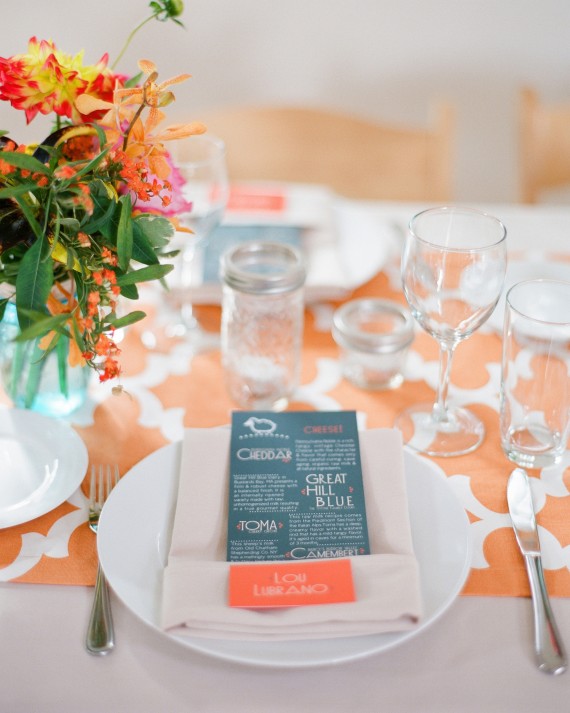 Pretty Place Settings
Using colorful fabrics, Elizabeth made runners to cover the long tables, which were set with simple white dishware and floral arrangements displayed in blue Ball jars. To create custom place cards, Elizabeth and Celeste ordered business cards from Moo, which allows you to use unique images on each card (in this case, the images were the guests' names). On the back of each, a beloved Julia Child quote was printed: "Dining with one's friends and beloved family is certainly one of life's primal and most innocent delights, one that is both soul-satisfying and eternal."
The menus gave attendees a bit of information about the local cheeses and pairings they'd be enjoying, and the backside listed the family-style dishes that would be passed. And to complement the saying on the place cards, a quote from Julia's husband, Paul Child, was printed on the menus: "You are the butter to my bread, the breath of my life. I love you, darling girl."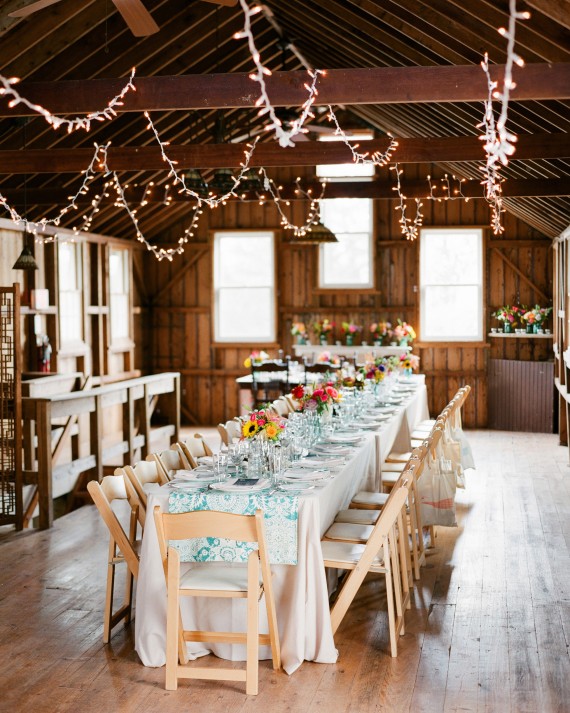 Food for Days
Upon entry to the seated dinner in the barn, cheese, bread, jam, and honey pairings awaited guests. Bread baskets were filled with challah and Irish soda bread in honor of the brides' roots. Elizabeth and Celeste's love of cooking and eating with friends was also celebrated with a feast of cedar plank salmon, chianti-braised short ribs, horseradish mashed potatoes, haricots verts, zucchini tarts, and baked pasta with butternut squash and fresh spinach.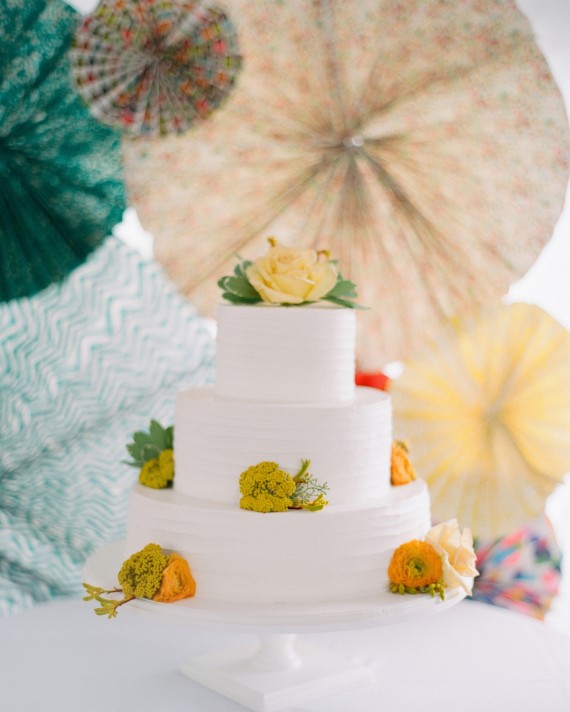 For the Sweet Tooth
A vanilla cake with lemon curd and raspberry filling was enrobed in white buttercream accented by a few fresh flowers. Pies, cookies, and cheesecake were also served, and later, guests enjoyed s'mores and cider doughnuts by the outdoor fireplace.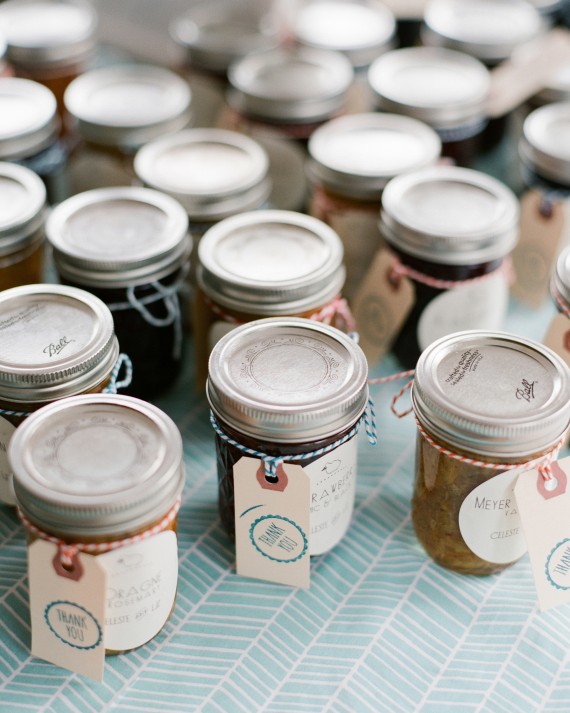 Festive Favors
The couple made jam for all of the guests over the course of a few months earlier in the year. A series of small batches yielded jars of blood-orange-and-rosemary marmalade and blackberry jam, the latter of which was also served during the day's cheese course.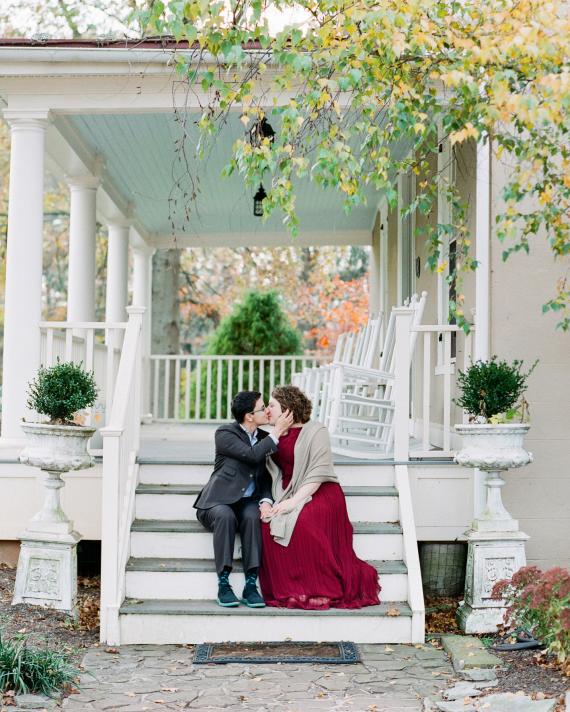 Photography: Kelly Kollar; Corbin Gurkin
Location: Ash Mill Farm
Catering and Cake: Main Street
Flowers: Floribunda
Rentals: Newtown Party Rental
Hair: Amy Moscowitz
Cake Stand: Sweet Display
This week we are throwing back to all the blogs, posts & print Open Aire Affairs venues have been in. 
http://www.marthastewartweddings.com/362758/pennsylvania-farm-wedding#362013