Madeline and Brendon had a wonderful Fall Ridgeland Mansion Wedding in Fairmount Park Philadelphia PA. They trimmed down their guest count and made adjustments to their original plans due to covid-19 but it turned out to just what they wanted! Madison gives us all the details and a peek behind the scenes of her wedding planning and love story!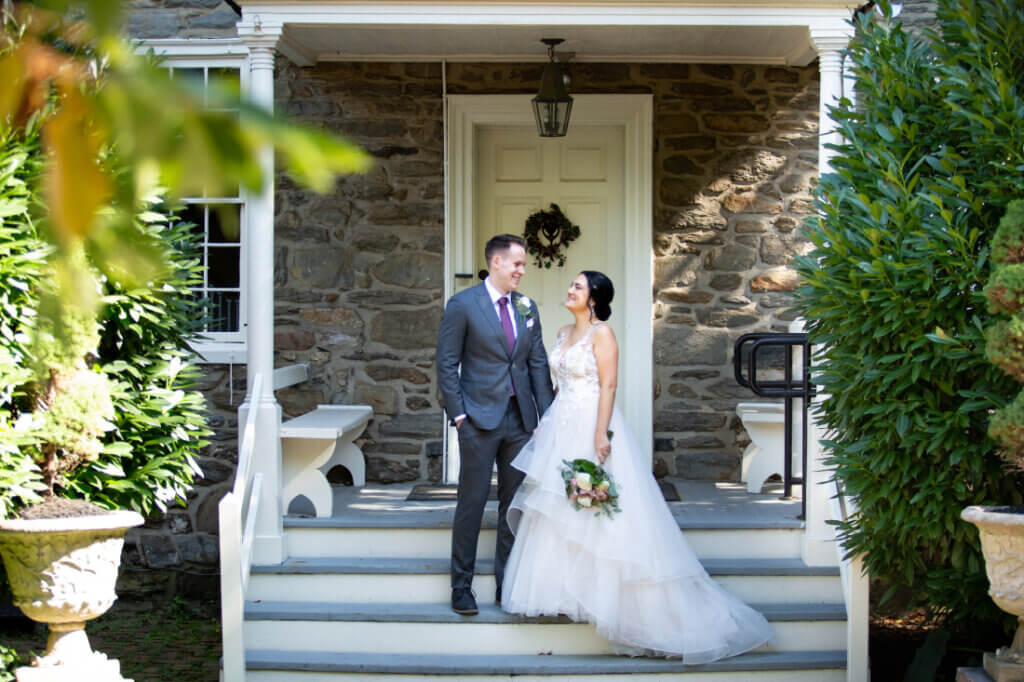 JOSHUA'S CATERING
Sometimes with wedding venues, it's love at first sight!
"The two of us wanted something beautiful and in Philadelphia but on the more casual side. We'd seen a couple of venues but knew the Ridgeland Mansion was the one when we saw the historic federal-style home and beautiful grounds. The greenery is really amazing. It's still in Philly but feels private and tucked away. We also loved Jenn from Joshua's Catering, which is the company that hosts and coordinates Ridgeland events. I frankly don't even know her actual title because she does everything. Seriously. She and the whole Joshua's team were so terrific. We locked down our Ridgeland Mansion wedding before we even left our first tour.
THE LOVE STORY AND PROPOSAL
"Brendon and I met on the second day of college in 2010 when my friend Brittaney dragged my terrified self downstairs to the boys' hallway in our dorm building to meet people. Brendon was one of those people. We became close friends and after a semester of "doing our own thing," whatever that means, Brendon and I decided to make things official at the ripe old age of 19. On our eight-year anniversary, Brendon took me to a pier with a great view of the Philly lights, handed me a letter, and got down on one knee…which I did not see until I finished the letter because I was too busy Kim Kardashian ugly crying. After 10 years together (and mere moments from 30, it seems) we figured it was high time we got married. He's simply the best person. How lucky am I that he wants to do life with me? The dream, really."
PERSONALIZING THE WEDDING DAY
Incorporating meaningful and personal components to your wedding day can really make it an extra special experience. Here are some ways Madeline personalized her day by having some of her favorites people, and her dog, play a special role in their day.
"A few things! First, we did a self-uniting marriage so that my sister could officiate. She did such a great job. She's the funniest, most loving, and the most earnest person I know and she could not have done a better job. She had me and Brendon crying. My parents and step-parents have given me everything I could have ever wanted in life (and then some) so seeing them so happy all day is my favorite wedding-day memory (aside from, you know, getting married).
I've also had my little dachshund, Ween, for almost 12 years now. I got her when I was still in high school and she's been with me for every milestone since. Having her there for our wedding was really special to both of us. (And she looks fabulous in her photos! She is absolutely convinced that Brendon is her man.) Another fun thing was my brother's "Corona Toast" with bottles of Corona. We had to. And my lifelong best friend gave an actual champagne toast as well that had Brendon and I cracking up and tearing up in equal turns. Finally, the wedding was the day before my 29th birthday, so that was fun. I really got to co-opt the proceedings."
ADJUSTING THE WEDDING DUE TO COVID-19
Covid-19 has had an effect on many 2020 weddings and Madeline and Brendon's was no exception. Here is what they did to keep safe and still tie the knot at their Ridgeland Mansion Wedding.
         "I keep saying that COVID gave us the wedding we always wanted. Before sounding too flip about it, though, safety quickly became our number-one priority. First, we changed the date from August 15th to September 20th back before any of us really knew how dire the whole thing would be. Next, we cut the guest list from 67 to 35. Brendon and I both always wanted a small, intimate wedding: a short ceremony, a cocktail hour, a nice dinner, and some cake. And for COVID reasons, we cut the wedding down to exactly that. (Brendon and I both shudder at the thought of dancing in front of people. We just aren't dancing people!) We put my Spotify wedding playlist on a Bluetooth speaker and spent the evening eating absolutely excellent food and catching up with our loved ones, most of whom we hadn't seen in months. Despite the masks and all of that, things were so relaxed and fun. Brendon and I felt happy, thankful, and totally wrapped up in the people who have loved and supported us, individually and together, since day one. (Oh, and we were on the couch eating wedding cake in our pajamas by 8:30 pm. Can't beat it.)"
https://heidirolandphotography.com/2020/10/ridgeland-mansion-wedding-philadelphia-pa/