Both my grandparents and my mother were born and raised in Hatboro, Pennsylvania: one of those quintessential small American towns where everyone knows everyone. My mom studied abroad in France and moved to California, and never looked back–she has very strong feelings about shoveling snow. My grandparents retired to Florida not long after I was born. So while I grew up hearing stories about life in Pennsylvania–Mimi used to pepper conversations with words like Doylestown, New Hope, Horsham–I've never actually explored the area myself.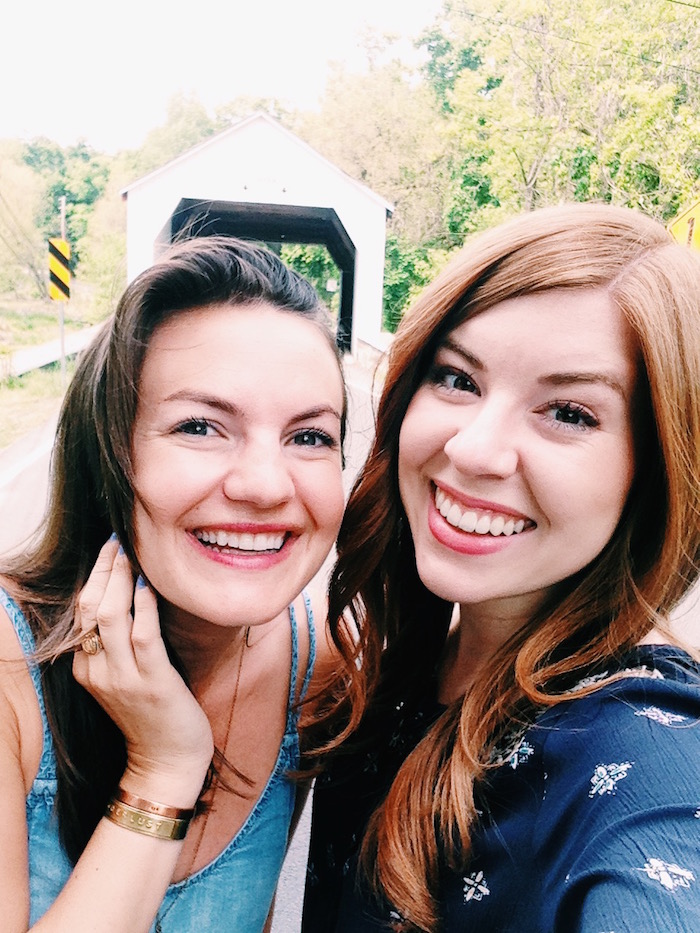 So when Bucks County Tourism invited me down for a weekend, I immediately said yes (!) and invited my friend Jillianto join me for a girls weekend. It's only a two-hour drive from New York City, and we had grand visions of frolicking in fields of wildflowers, wine tasting with a view and staying in a super quaint B&B–aka a true weekend in the country, an escape from the chaos of the city. And it didn't disappoint! We had such a wonderful time, and I'm already planning to go back in the fall: there are HOT AIR BALLOON RIDES (which I so wish we had known about in advance!) and the tree-lined roads must be insanely beautiful when the leaves are changing.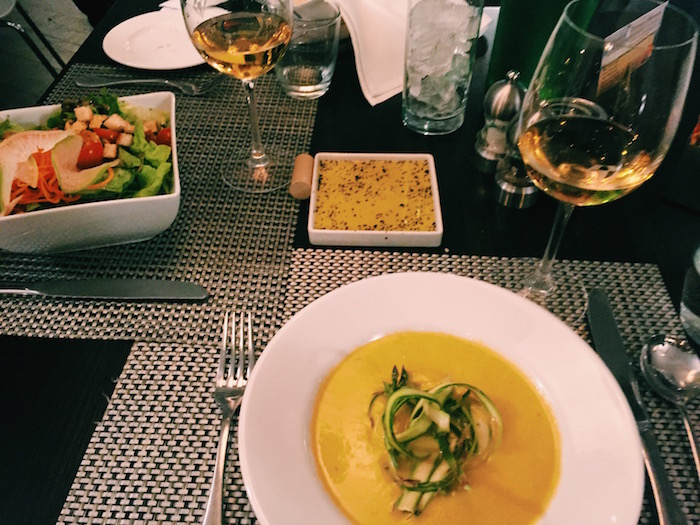 Our very first stop in Bucks County was dinner at Caleb's American Kitchen. It was a bit of a nightmare getting out of New York City at rush hour, so we were both hungry and ready to relax by the time we arrived. A glass of Pennsylvania table wine (it's BYO!) and the fresh asparagus soup were the perfect start to the meal, and Jillian was still raving about the key lime pie dessert on our drive home on Sunday.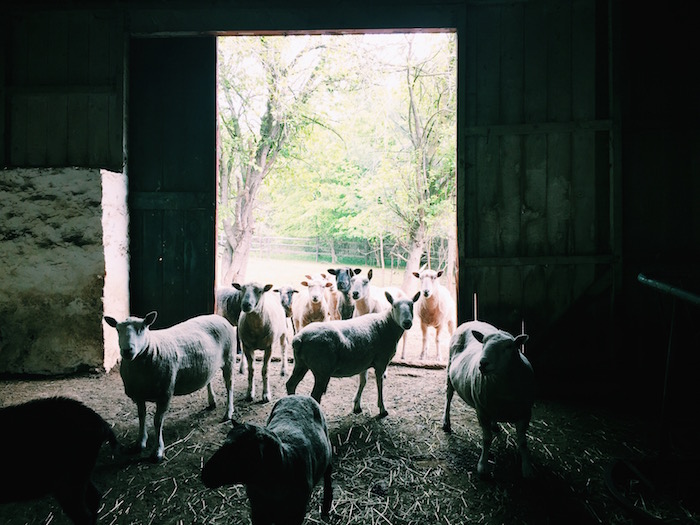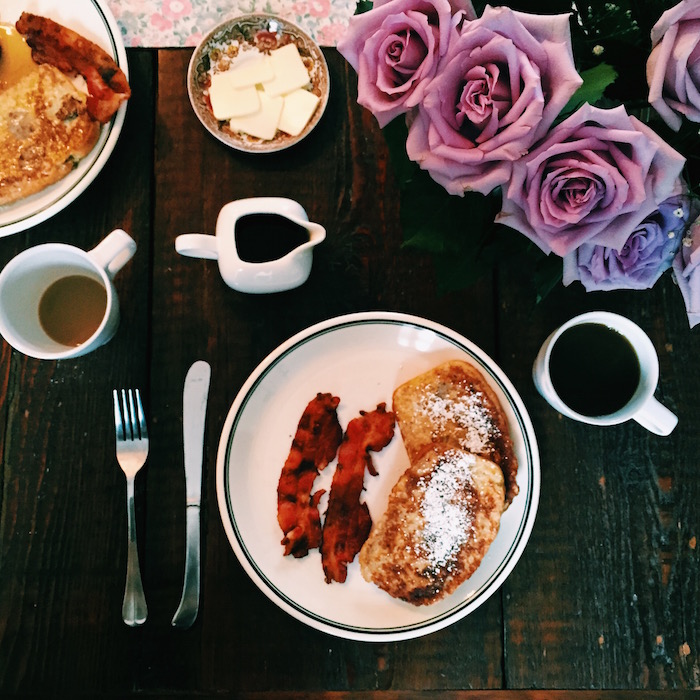 We stayed at Ash Mill Farm: it was my first time staying at a true B&B, and it was everything I imagined and more!We woke up to the smell of bacon wafting into our room, and went downstairs for homemade sausage French toast, just-out-of-the-oven coffee cake and hot coffee. We chatted with the other couple staying there, and then popped out to say hello to the sheep, goats, cats and miniature horse that live on the grounds.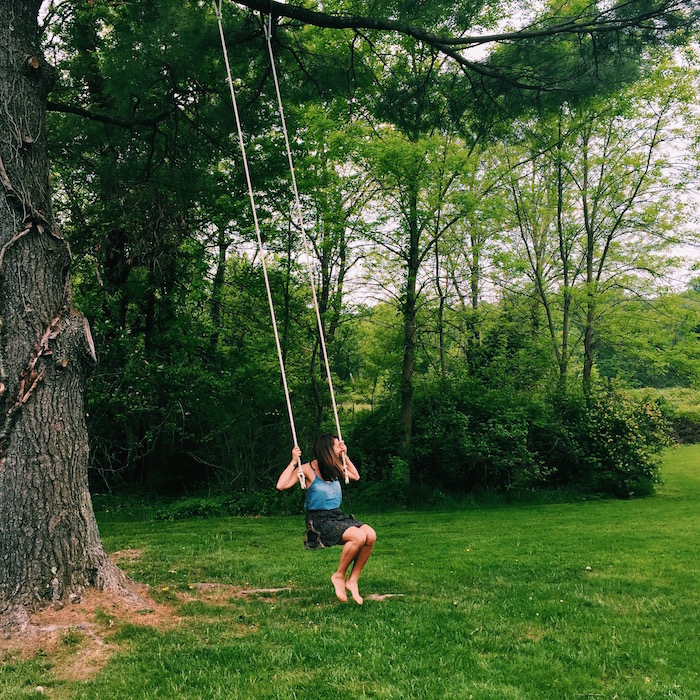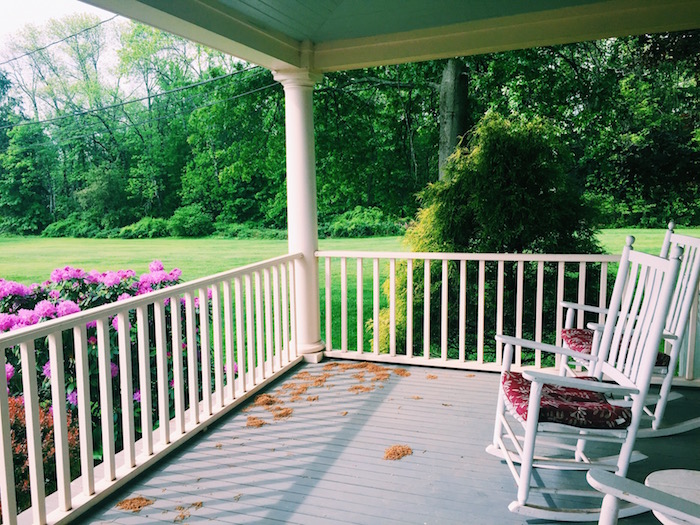 There was a tree swing (hello photo opps!), and a porch with rocking chairs that was perfect to sit and listen to a thunderstorm roll through. For a place built in 1790, our room was super comfortable–and the innkeeper was just lovely.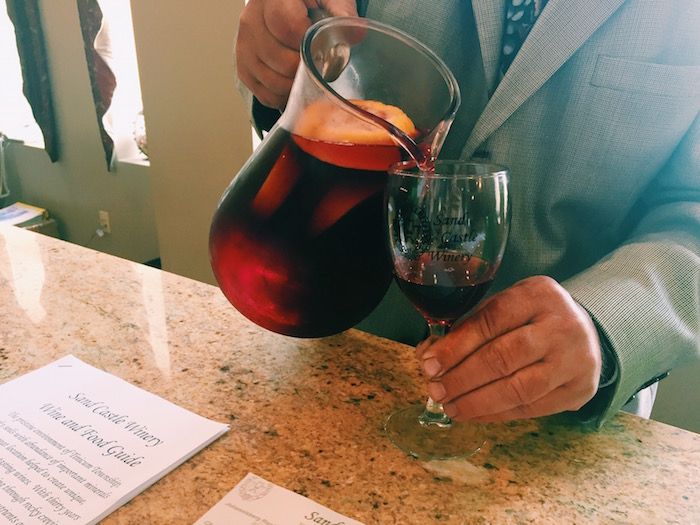 Honestly, when I saw wine tasting on the itinerary for the weekend, I wasn't that stoked. I had just been to three wineries in a day during my weekend in Austin, and although I love a glass of wine: I'm not enough of a wine connoisseur to differentiate between facilities tours or the nuances of a merlot. BUT. Sand Castle Winery was one of the most fun, informative and different wine tasting experiences I've ever had–and it all comes down to our hilarious and wonderful guide Vincenzio. We tasted chilled claret wine poured over orange slices (even more delicious and easier to prepare than sangria) and warm Alpine Spice wine (which tastes like a cozy night in a ski lodge); Jillian and I both bought bottles of each to recreate at home!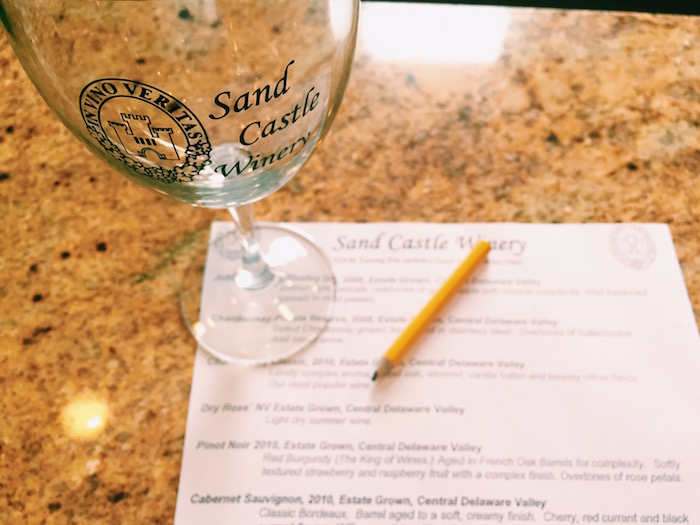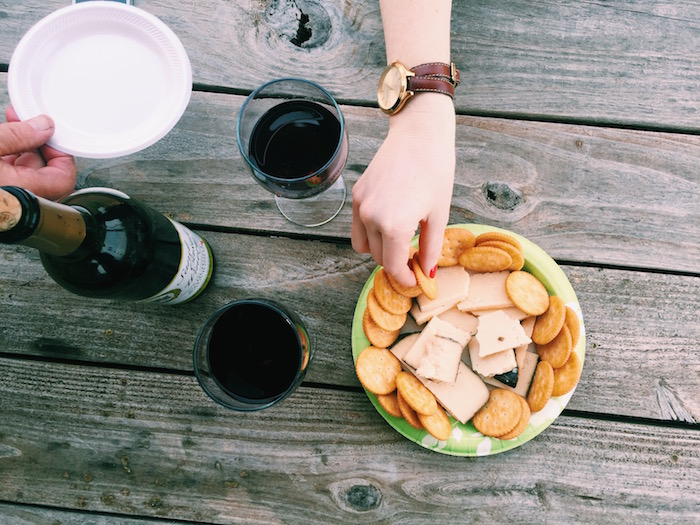 After we finished the tasting, we took a glass of wine and some cheese and crackers outside: we chatted with a breeze blowing and view over the vineyards and the river, and it was just delightful.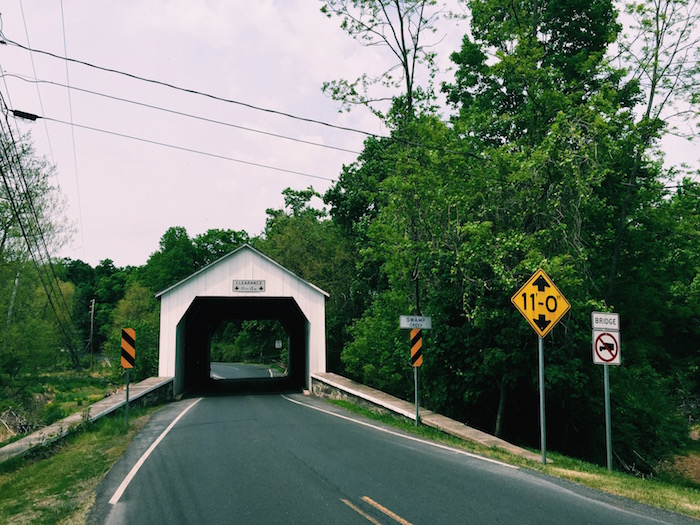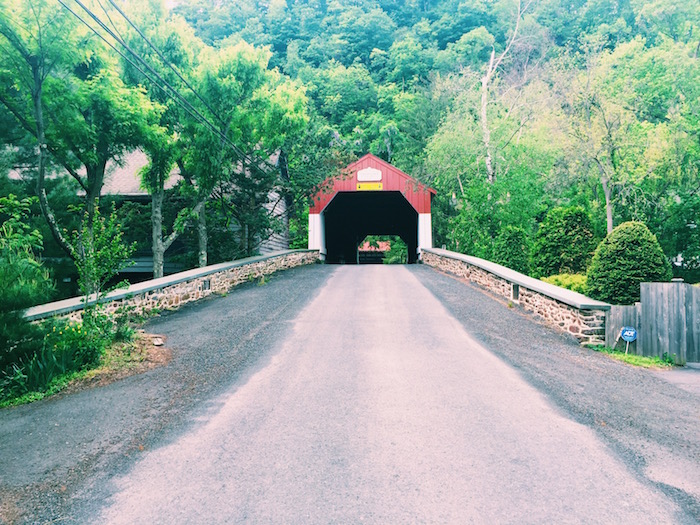 After reading an article about America's most beautiful covered bridges earlier this year, I've been on a bit of a quest to see as many as possible. I convinced my boyfriend to do a serious detour on our way to Providence on Valentine's Day so that we could partake in the Pennsylvania good luck tradition of kissing under one. And even though we didn't take part in the Covered Bridges scenic driving tour, we still stumbled across THREE beautiful covered bridges: Cabin Run, Erwinna and Frankfenfield. So picturesque!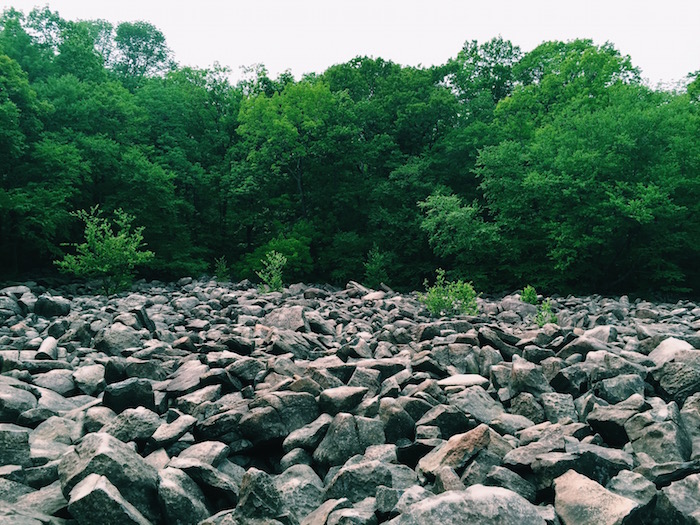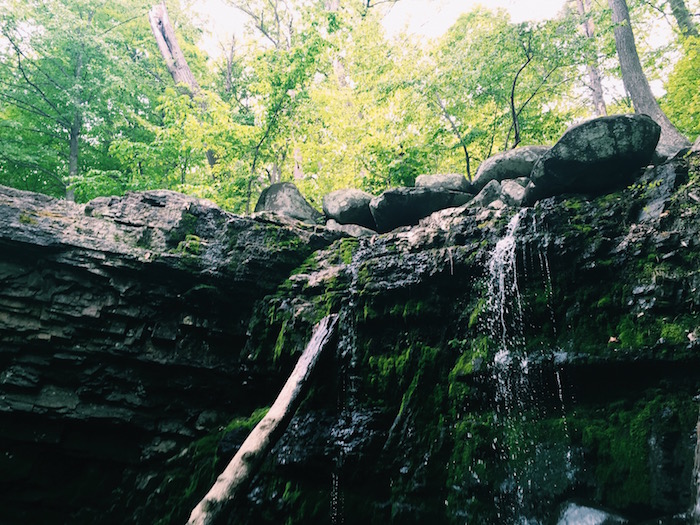 We saw something about bringing a hammer to Ringing Rocks Park, and thought it was a joke–until we showed up and saw everyone hammering away! The rocks sound as if they are metal and hollow and ring with a sound similar to a metal pipe being struck–it's super bizarre. There's also a waterfall, so we took a nice little hike.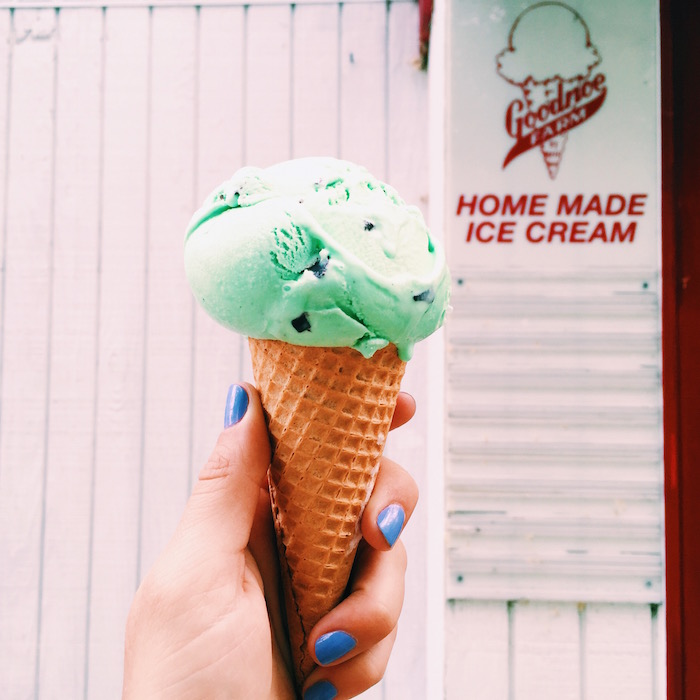 When I told my mom that I was going to Bucks County, she immediately mentioned Goodnoe Farm: my grandparents used to drive the half hour from Hatboro on sticky summer days for the best ice cream in the area. My uncle (a strapping high school football star) once successfully completed the "Atomic": a full gallon of ice cream with all the toppings, in one sitting! When I looked it up and saw it was still open–and had 4.5 stars on Yelp–we decided to go for an afternoon treat. Unfortunately, it was little disappointing–it's been relocated from the original dairy to a little storefront on main street. But the ice cream is still darn good!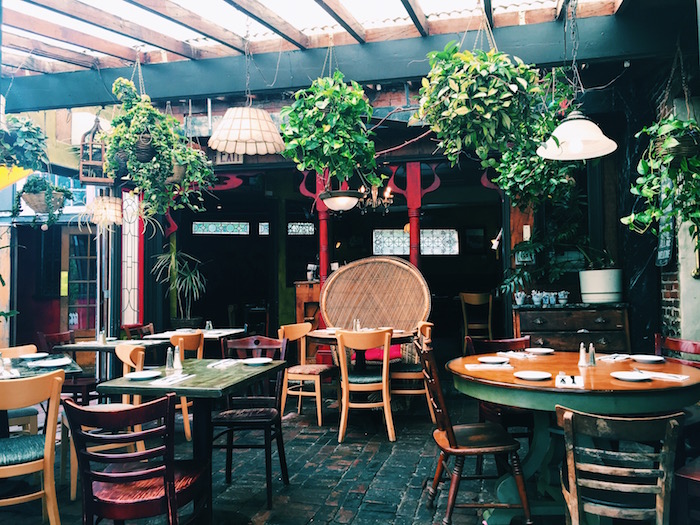 There was quite a rainstorm on Saturday afternoon, so we opted for a relaxing afternoon at Ash Mill Farm. But as soon as we drove into New Hope for dinner at Karla's, we knew we would want to come back and explore! We loved Karla's: blackberry margaritas, calamari with siracha aioli, all sorts of green plants and funky lights, and a really young, fun crowd.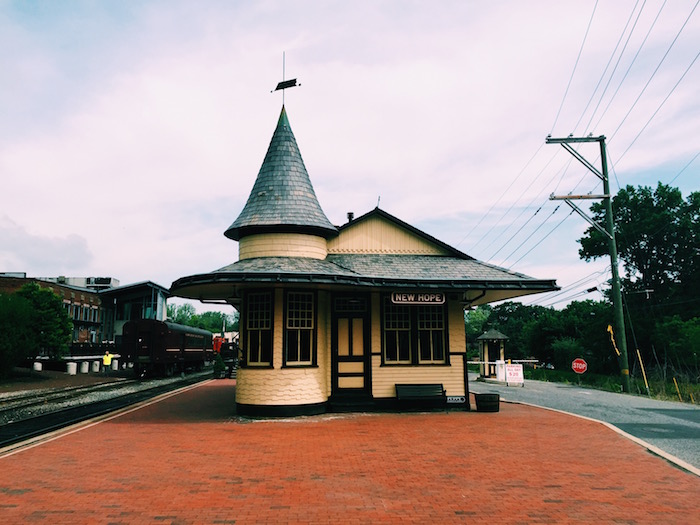 And when we came back the next morning to walk around New Hope, we fell even more in love with the town! It's right on the Delaware River–you can walk across the bridge to New Jersey–and there's a network of canals that runs through town, with picturesque red bridges and lush green backyards lining it.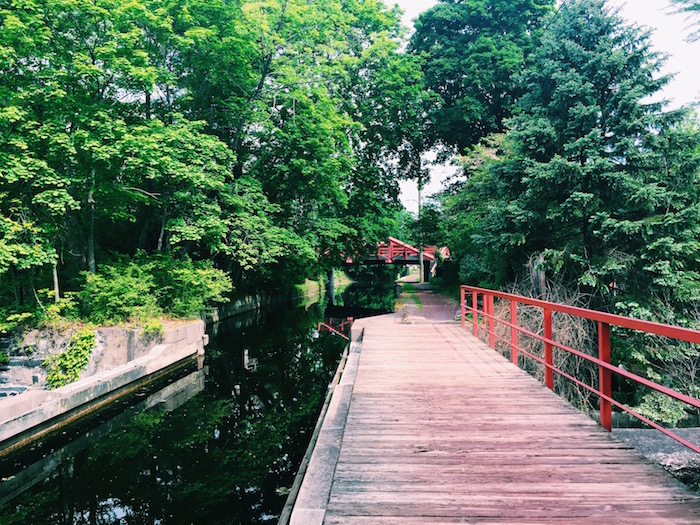 An old-school train track runs through town, and New Hope & Ivyland Railroad takes people on scenic tours of the area–I actually want to go back and do one!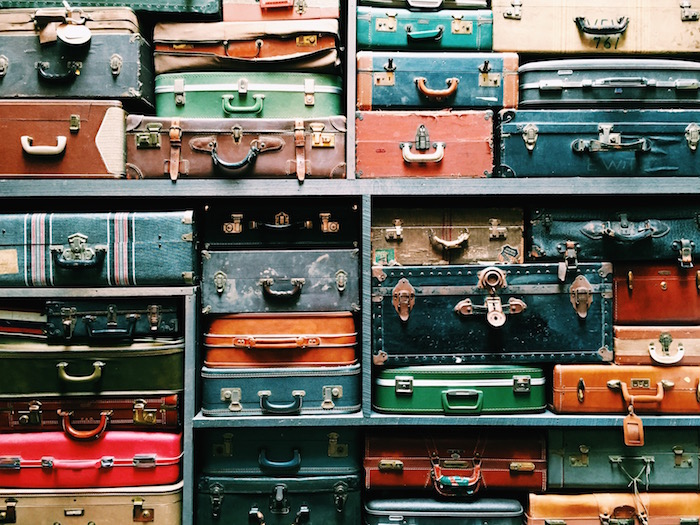 Downtown Doylestown was just about as cute as it gets. We had lunch at Hattery Stove & Still: the salad was delicious, but the wall of vintage suitcases was even better.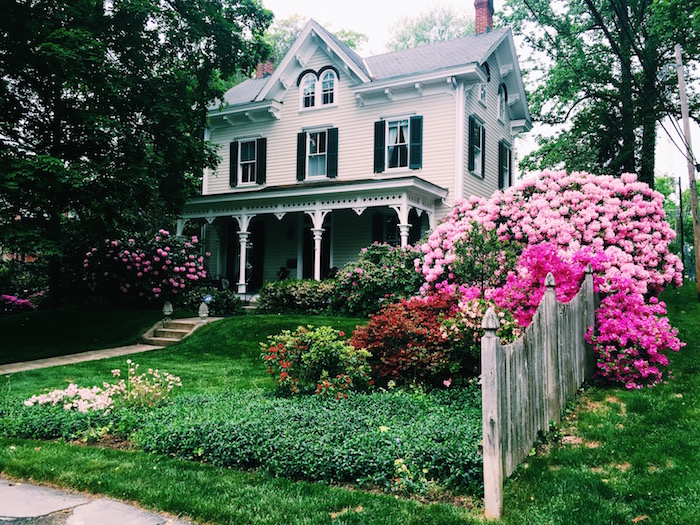 Before we started the drive back to NYC, we grabbed a rose lemonade at Zen Den. The baristas were so sweet, and I think I could have happily spent all day on the outdoor porch with a good book.
Overall, it was such a fun weekend–thanks to Jillian for being the official photographer!–and I already can't wait to go back. Totally recommend for a low-key weekend away from the city.
*Note: Bucks County Tourism very kindly sponsored our trip, but all opinions are my own. 
The week we are posting all the blogs,posts & print we have been featured in all things Open Aire Affairs. 
http://www.cestchristine.com/2015/05/a-weekend-in-bucks-county/